Designing for Performance, Efficiency, and Comfort 
H2M's MEP solutions place an emphasis on building performance, energy efficiency, and occupant comfort. Although their work may be hidden in ceilings, behind walls, and under floors, H2M's mechanical, electrical, plumbing, and fire protection engineers treat it like the main event. While their efforts might not be visible in the finished product, the effortlessness they bring to your building's operations will be. 
Focusing on developing detailed quality drawings, H2M will meet each client to establish the full scope of work before putting pen to paper.  By spending time in the field, taking measurements, and asking the right questions, H2M ensures a level of detail that simplifies the bid and construction process as well as the results in fewer change orders.
Jeffrey L. Czajka, P.E., LEED AP BD+C
Senior Vice President
Discipline Director, MEP Engineering
Mr. Czajka has been a leader in the mechanical, electrical, and plumbing engineering industry for nearly 27 years. Heading H2M's MEP Group, Mr. Czajka and his staff of professionals provide H2M's clients first in class design solutions in all practice areas. 

H2M's MEP team has completed a wide variety of successful projects including the remarkable recovery of the Nassau County Bay Park Water Pollution Control Plant post Super Storm Sandy, His broad experience at H2M also allows him to bring all the collective talents and resources of H2M to bear in solving any problem or managing any project. Under his leadership H2M's MEP team will provide solutions to whatever challenge their clients face, from power distribution to HVAC, and energy efficiency to fire protection engineering. 

Read MoreClose
Heating, Ventilation and Air-Conditioning

Central Heating and Boiler plants

Chiller Plants

Cooling Towers

Process Piping
Energy/Building Systems Management

Vehicle Exhaust Systems

Steam and Hydronic Systems

Compressed Air Systems

Kitchen Hood Exhaust Systems
Radiant Floor Heating

Variable Refrigerant Flow (VRF) Systems

Dedicated Outdoor Air Systems

Energy Recovery Systems
Interior/Exterior Lighting

Sports Lighting Systems

Power Distribution Systems

Emergency Generator Systems

Motor Control Centers

Uninterruptible Power Supply Systems

SCADA Systems

PLC Control Systems

Instrumentation and Controls

Communication Systems
Security and Access Control Systems

Fire Alarm Systems

Public Address Systems

Synchronized Clock Systems

Lightning Protection Systems

Power and Communication Surge Suppression

Site Utilities

Utility Coordination

Energy Efficient Surveys
Utility Rate Surveys

Theatrical Lighting/Controls

Arc Flash Hazard Analysis

Coordination Studies

Internet of Things (IoT)

Intrusion Detection Systems

Electrical Evaluations

Photovoltaic (PV) Design

VOIP Phone
Plumbing Systems

Emergency Plumbing Fixtures

Domestic Water Heating Systems

Backflow Prevention

Sanitary Systems and Drainage

Natural Gas Distribution

Water Supply and Distribution
Vehicle Wash Systems

Swimming Pool Filtration and Control Systems

Pump Stations

Storm Drainage

Specialty Waste Piping and Collection Systems
Specialty Gas Piping Systems

Compressed Air Distribution Systems

Traps, Interceptors and Seperators

Fuel Storage and Distribution Systems

Automated Fluid Storage and Dispensing Systems
Water-Based Suppression System Design: Wet-Pipe, Dry-Pipe, and Pre-Action Sprinkler Systems

Special Hazard Suppression System Design: Clean Agent, Carbon Dioxide, Foam, Wet and Dry Chemical Systems

Emergency Communication System Design: Fire Alarm and Mass Notification

Building Control Functions and System Interfaces
Smoke Control Design: Pressurization, Natural venting, Mechanical Exhaust, Control Equipment and Initiating Mechanisms

Life Safety and Code Review: Cccupant Load Calculations, Egress Arrangement and Sizing, Travel Distances and Egress Components

Human Behavior in Fire: Evacuation Movement, Timed Egress Analysis
Passive Building Systems: Construction Type and Materials, Height and Area Limits, Building Separation Distance, Structural Fire Resistance, Compartmentalization

Fire Rated Assemblies: Protection of Openings, Penetrations, and Joints

Hazard Analysis: Hazardous Materials, Storage, and Equipment
LEED Sustainable Buildings
Light Pollution Reduction

Photovoltaic (PV) Design

Innovative Wastewater Technologies

Geothermal Heating and Cooling Design

Solar Domestic Hot Water Heating Design
Water Use Reduction

Optimize Energy Performance

On-Site Renewable Power

Enhanced Refrigerant Management

Green Power
Outdoor Air Delivery Monitoring

Increased Ventilation

Indoor Air Quality Management Plan

Indoor Chemical and Pollution Source Control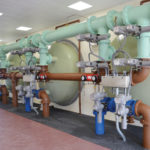 water/wastewater
Smart growth from the bottom up. Frequently overlooked and misunderstood, wastewater management often controls the destiny of a growing community.
news
Click here to check out all the latest news surrounding H2M!
blog
Click here to view our blog for professional writing publications from our H2M employees!
careers
Click here to find career opportunities at all H2M locations!