Clean Waters, Clean Environment  
At H2M, our wastewater engineers recognize that no two projects are exactly alike. We understand that two pump stations with the same capacities and specifications can pose unique challenges in their design, construction, operation, and maintenance.  Using cutting-edge solutions, detailed construction drawings, and comprehensive internal quality control practices, H2M delivers design excellence on time and on budget.
With the treatment facility's long-term operation in mind, we walk through each design to anticipate problems.  You can rely on our firm to provide sustainable treatment solutions that reduce environmental impacts, promote business growth, and improve the community's quality of life.
H2M's team of seasoned professionals continue to develop pioneering solutions that reduce the cost of wastewater infrastructure projects. Reuse, nitrogen removal, wetlands preservation, new systems or renovations of old systems, H2M's wastewater team has a solution to the challenges each client faces.
Christopher A. Weiss, P.E.
Vice President
Discipline Director, Wastewater Engineering
Mr. Weiss has over 32 years of experience consulting in the field of wastewater engineering. He has been a part of several notable wastewater treatment projects, the most distinguished being the ACEC Diamond Awarded Riverhead Wastewater Treatment Facility project, the most advanced wastewater system in New York State that was designed to recycle wastewater for public irrigation use.

He encourages his team's creativity in the development and execution of their project design solutions, understanding the needs of the client and the environment. Dedicated to making a difference in the environment and pushing the industry forward, he takes his group to new heights by reminding them they have the power to promote change.

Read MoreClose
Biosolids Handling and Processing

Collection System Design

Compliance Permitting and Oversight

GIS Mapping

Industrial Pretreatment and Commissioning

Innovative Alternative Onsite Treatment Systems

Odor Control and Remediation

Pump Station Design and Upgrades
Sewage Systems Operations and Maintenance Assistance and Oversight

Sewer District Planning

Sewer Rehab and Inspection

Sewer Upgrades

Treatment Plant Design, Expansion and Upgrades

Wastewater Reclamation/Reuse
TOWN OF RIVERHEAD-ADVANCED WASTEWATER TREATMENT FACILITY WASTEWATER REUSE FOR GOLF COURSE IRRIGATION
The Riverhead Sewer District was required to upgrade the existing sewage treatment plant in order to achieve a total nitrogen effluent limitation of 3.2 mg'l based on the total maximum daily load (TMDL) conducted for the Peconic Estuary Program. Due to the location of the Suffolk County Indian Island Golf Course, adjacent to the wastewater treatment plant, wastewater effluent will be used seasonally as an alternative water supply source for irrigation of up to 450,000 gallons per day. This is the first wastewater reuse project in New York. Benefits from this project extend well beyond nitrogen loading within the Peconic Estuary. Water shortages may change the water supply conditions that are currently taken for granted. The golf course currently utilizes on-site wells for irrigation. Continued use of groundwater as the irrigation source of supply is bound to affect the salt water / fresh water boundary. Irrigation with potable water from the local municipal system is already expensive and puts a stress on the existing potable water supply. We designed the treatment plant upgrade and water reuse systems. The design included the installation of all process equipment including, but not limited to: headworks fine screen, screenings, washings, add air diffusers to the existing Sequencing Batch Reactor (SBR) tank, convert the existing post-equalization tank to Membrane Biological Reactor (MBR) system, aeration blowers, pumps, chemical feed equipment, polymer mixing and feed equipment, controls, piping, backflow preventers, convert the existing trickling filter tanks to treated effluent tanks, a booster pump for the treatment plant effluent re-use system, a booster pump to supply treatment plant effluent for irrigation use at the adjoining golf course, UV disinfection equipment for WWTP discharge, and a closed vessel UV disinfection system for the golf course re-use systems. The electrical design included a primary electrical service, main secondary feeders, power distribution, and instrumentation control wiring, standby generator for new equpment, and motor control centers. We also prepared the structural, architectural, mechanical, plumbing and HVAC designs. Since permit levels of treatment must be maintained during construction, certain existing process equipment and units cannot be taken offline until new facilities are placed into permanent, fault free operation. Consequently, we included the specifications a construction sequence. During construction we provided construction administration and resident construction inspection services. We also prepared an operation and maintenance manual for the upgraded advanced wastewater treatment system and the water reuse systems.
JUICE MANUFACTURER GETS PLANT UPGRADE
California-based Sunkist Growers wanted to reduce their water supply costs, and with a remote farm property that was going to be sold for development, they needed to eliminate the need for the existing discharge to the property. H2M traveled cross-country to review Sunkist's existing facility, its water use, and discharge permits. Inspections of the facility were then performed to best identify and evaluate how and where water was being utilized and wastewater was being generated. During the course of the inspection, two studies were conducted—a wastewater management study and a bench scale treatability study. The wastewater management study was able to establish an overall water balance for the facility, identifying high water consumption areas and wastewater generation; provide recommendations for water conservation and reuse; and present a preliminary design for wastewater reclamation. The bench scale treatability study demonstrated the importance of solids removal in improving wastewater quality. These studies, combined with the inspections of the facility, led to a preliminary design that would provide Sunkist the ability to properly plan its cost-cutting plant upgrades.
PROTECTING LONG ISLAND'S AQUIFERS FOR THE FUTURE
Completely surrounded by salt water, Long Island derives almost all of its drinking water from groundwater aquifers. Suffolk County alone uses nearly 200 million gallons of groundwater daily. Protecting the underground aquifers that supply that water is a key mission of the County. With most of the county unsewered, the majority of homes and businesses have septic tank systems that discharge their wastewater back into the ground. This presents a risk to our aquifers, as nitrates leach from the septic systems into the groundwater. Suffolk County recently hired H2M to investigate alternatives to septic systems using alternative on-site sewage disposal system (AOSSDS) technologies. The goal of the study was to explore the viability of alternative systems to traditional cesspools and leach fields. The systems investigated had to meet effluent requirements for total nitrogen of 10 mg/L or less. Studying over 60 technologies for both residential and commercial applications, we developed a short list of five technologies that would reduce nitrogen concentrations by 87%. We also presented costs for design, installation, operations, and maintenance. A review of other states' alternative treatment technology implementation and regulations included Massachusetts, Rhode Island, New Jersey, and Maryland.
UPGRADING AGING INFRASTRUCTURE WITHOUT BREAKING THE BANK
Like many municipalities, the Town of Clarkstown was starting to face a number of challenges due to aging infrastructure: sewer overflows due to failing equipment and a lack of emergency power generation; stormwater inflow from surface runoff; and groundwater infiltration through cracked pipes and leaking joints. With financial assistance from the Rockland County Sewer District, the Town of Clarkstown established a capital improvements program to replace outdated technology and bring the Town's pump stations into compliance with the most current Ten States Standards. Reducing stormwater inflow and infiltration in gravity sewers reduces the demand on pump stations and receiving sewage treatment facilities. H2M is currently upgrading nine of Clarkstown's sanitary sewage pump stations to include new pumps and controls, valves, and force main piping to connect to existing force mains. We are utilizing precast structures such as wet wells, valve vaults, and control buildings to minimize on-site construction, and we've selected architectural finishes, fences, and landscaping to incorporate the pump stations into the local residential neighborhoods. Emergency standby generators will be supplied to all nine pump stations to ensure that equipment will continue to operate in the event of a power outage
LACK OF SEWERS HAMPERS DEVELOPMENT IN NORTH SHORE TOWNS
Serviced by onsite sanitary systems, the business districts of Kings Park and Smithtown are constrained from future growth. Future development in these growing downtowns is limited due to the capacity of cesspools, septic tanks, and leach fields to handle sanitary output. Providing sewers to these downtown areas will benefit existing businesses and make future construction of apartments, medical offices/practices and restaurants possible. H2M performed an engineering design report for both communities as part of a study commissioned by the Suffolk County Department of Public Works (SCDPW). Due to the distance between the two downtowns, two separate reports were developed for the communities. The Kings Park Business District consists of 140 business establishments across a 65-acre area within the Town of Smithtown. With a projected average design flow of 329,000 gallons per day, the proposed sewer system will include 8,200 LF of gravity sewers and a conventional pump station with a 1.4 mile long force main. A gravity sewer will need to be jacked under the LIRR in order to service the entire business district. The Smithtown Business District is larger, with 350 business establishments across a 280-acre area. The proposed sewer system will include a 22,500 LF low pressure sewer, 1,600 LF of gravity sewer, and a conventional pump station with a 3.2 mile long force main. The projected average design flows are in excess of 500,000 GPD. Upon approval of the engineering reports, H2M will proceed with the design of sewerage systems and begin the subsequent planning and design for the filter and effluent pump station upgrades to the Suffolk County Sewer District No. 6 Sewage Treatment Plant.
WASTEWATER DILEMMA SIMPLY SOLVED FOR FOOD MANUFACTURER
With constant flooding of its parking lot and difficulty maintaining its leaching pools, Simply Lite Food Corp. knew it was time for a change. Discharging approximately 5,000 gallons per day of processed wastewater to groundwater, Simply Lite retained H2M to determine where, how and how much water was being used; identify where process wastewater was being generated; and define the characteristics of the process wastewater. A comprehensive inspection of the facility was performed, uncovering several areas of highly excessive water use. H2M proposed immediate recommendations, which resulted in a reduction of water use at the facility of over 30%. These recommendations, coupled with a 20,000 gallon hold-and-haul tank, allowed Simply Lite to meet local agency regulations.
RISING FROM THE ASHES
A fire left most of Oak Tree Dairy destroyed, but its wastewater treatment plant was left unscathed. As part of the plant's reconstruction, and because of new permit limits for nitrogen removal, a new treatment plant design was created. H2M prepared a facility plan that would maintain the original design flow of 80,000 gallons per day. After evaluation, it was discovered that the new treatment plant will meet the requirements for nitrogen removal at the existing flow because of the three blowers incorporated within the design, which are turned on and off the achieve the required degree of nitrogen reduction.
A BREATH OF FRESH AIR FOR THE LAKES AT SETAUKET
The sewage treatment plant at the Lakes at Setauket condominium complex was beginning to show its age in both operation and capacity. The plant featured a manual airlift wasting system which used compressed air to transfer sludge from one tank to another. This system required the plant operator to manually open and close air valves each day to maintain proper biology and prevent build-up of older, odor-causing sludge. A missed day often resulted in unpleasant smells emanating from the plant. H2M redesigned the wasting system with an automatic sludge pump, featuring a peristaltic-style hose pump. This new pump automation allowed for the transfer of older sludge without the operator visiting on a daily basis. The new control panel allows for periodic adjustment of the pump duration in response to different loading during weekends and weekdays. These improvements created a more efficient, automatically operated treatment plant that keeps the biology, air mixture, and sewage treatment optimized for the community's needs. The outcome to the residents was reduced operating costs and a treatment plant with fewer odors.
MEETING STRICTER STANDARDS IN A SUSTAINABLE MANNER
When Port Jefferson's wastewater treatment facility was faced with more stringent Long Island Sound nitrogen pollutant loading, the Suffolk County Department of Public Works sought to increase the quality of the plant's effluent while preserving as much of the existing plant infrastructure as possible. H2M proposed a new sequencing batch reactor (SBR) that reused all of the plant's existing process tanks. A multi-stage, absorption odor control system was provided for the thickened sludge storage tank, and the plant's original chlorine disinfection system was replaced with an ultraviolet disinfection system. In addition, a new operations building was constructed to house control ancillary equipment such as: the sludge belt thickener; polymer feed and mixing system; air supply blowers; electrical motor control centers; and control panels. The new facilities were designed into the site's natural steep slopes to maximize the buffer distance to neighboring residences and to maintain the existing natural landscaping. The new process system discharges a superior-quality effluent with less than 4.0 mg/l total nitrogen, in accordance with the Long Island Sound Study requirements.
TRUCK WASH DELIVERED TO THE POSTAL SERVICE
At a time when the United States Postal Service was washing its fleet of trucks at an outside facility, H2M was retained to determine whether or not a truck wash facility would be a realistic goal at one of their Mail Processing and Distribution Centers. After carefully evaluating several locations, a determination was made as to which of the locations would best be suited for the new USPS truck wash. Consideration was given to each facility's age, traffic flow and current utilities. Additionally, water reuse and sewage disposal were also considered as an investigation was performed to determine whether the facility would connect to a nearby municipal sewer or have its own on-site wastewater treatment and disposal plant. According to the specific needs of the client, recommendations led to a preliminary building layout and the eventual design of a 50-foot by 120-foot truck wash. The structure was designed with masonry walls, handheld prewash equipment, a full-contact vehicle wash system and a 70% washwater recycling system.
PROPERTY OWNER AVOIDS MAJOR SANITARY SYSTEM OVERHAUL
At a time when there had been a lull in occupancy at this Manhasset, NY building, the property owner received a letter from the Nassau County Department of Health (NCDH). They were proposing that, through implementation of a water conservation plan, the sanitary sewage discharge limit was to be reduced to 4,700 gallons per day (GPD). However, NCDH's proposed number was not indicative of full occupancy for the 220,000-square-foot, four-story office building, which had originally received approval from NCDH to design a 28,000 GPD on-site sanitary system. That system, which was currently in place, was designed to accommodate a fully occupied building of 2,071 people. With NCDH proposing significant changes, H2M conducted a water usage analysis of the building. Through the analysis, H2M reviewed the relation between building occupancy data and water usage from 1999 through 2007, also reviewing the water usage date for the property's irrigation meter. H2M was then able to determine the water usage of the building at full occupancy with current plumbing fixtures. This led to a request for a proposed discharge limit of 14,414 GPD from NCDH, which was approved, avoiding the major cost of replacing the current on-site sanitary system.
PUMP STATION OR NEW NEIGHBOR?
If a new house went up on your block, would you bake a cake, take a walk over to your new neighbors, and welcome them to the neighborhood? Not in this case. If you happen to live on Meleny Road in Locust Valley, your new neighbor is the Locust Valley Sewage Pump Station, operated by the Town of Oyster Bay and Nassau County. The pump station is cleverly disguised in this attractive little house designed and landscaped by H2M. H2M's wastewater engineers designed a pump station and conveyance system for 60 homes in the Continental Villas subdivision that would allow for the future connection of an additional 120 homes. Most of the 3 mile long force main was installed using the directional drill method, which minimized restoration time and construction impacts. Wastewater from these areas will be carried to the newly-constructed pump station for conveyance to a nearby treatment plant. In addition to vastly improving water quality and sanitation for residents, the project eliminated septic system discharge to nearby wetlands and removed a chlorine discharge to neighboring Mill Neck Creek.
COSMETICS PLANT GETS WASTEWATER SYSTEM MAKEOVER
H2M's client, a global cosmetics company, uses its Kentucky-based plant to manufacture shampoos, conditioners, hair gels and hairspray for national distribution. The facility discharges both sanitary and industrial wastewater streams through separate building sewer laterals. However, its permit to discharge the waste, some of which contains greater concentrations than normal sewage, came with a surcharge. A review of the facility was conducted by H2M as it relates to water usage and wastewater generation, with the objective of identifying means to reduce wastewater strength to minimize the surcharge fees being imposed by the sewer district. In its assessment of the plant, H2M uncovered that the cleaning procedures used were responsible for the spikes in the plant's effluent stream. After discussions with the plant's staff, a cost-saving measure was proposed to modify the current cleaning-in-place (CIP) procedure. The modified CIP would repeat only the final rinse cycle of products in need of cleaning. This, in turn, reduced the chemical and water usage. Conversely, it was also uncovered that products were using an excessive water amount for cleaning. H2M recommended the operator control panel be reprogrammed to allow for the cleaning duration to be selected based on the product in the tank, thus reducing water usage and wastewater generation.
SMART GROWTH FROM THE BOTTOM UP
What does it take to revitalize a struggling downtown in the midst of an economic downturn? Leadership, public and private investment, and community support—not to mention a first-class wastewater treatment plant. With H2M's help, the Village of Patchogue, NY, recently upgraded and expanded their Wastewater Treatment Plant (WWTP); the new upgrades include a new headworks section with grinder and auger, grit removal, pump station, IFAS STM-Aerotor process, Secondary Clarifiers with a dry pit sludge pump station, ultraviolet disinfection, and a Membrane Sludge Thickening (MBT) system. The upgrade and expansion reduced the plant's average nitrogen loading by 80 percent—from 47.5 lbs. per day to less than 9 lbs. per day—improving the water quality of the Patchogue River, Great South Bay, and South Shore estuary. The use of a Membrane Sludge Thickening (MBT) process reduced the amount of sludge to be hauled to another Suffolk County facility, saving the Village $330,000 per year at the current flow rate, and over $1.0 million per year at full capacity. Fast-track design enabled the securing of grants to cover 66% of the project's budget. Most importantly, the project has created an engine for revitalization of the Village of Patchogue's downtown and surrounding areas, as expanding the sewer plant's capacity provided opportunities to connect new and existing businesses. New connections have resulted in additional revenue for the Village, offsetting maintenance operation and future expansion costs. The result has been a staggering multi-million-dollar investment in Patchogue's revitalization efforts. "Over the past eight years, there has been over $150 million dollars' worth of public and private investment in the Village of Patchogue, with another $150 million currently underway," said Village Mayor Paul Pontieri. "This type of investment doesn't happen without a wastewater treatment plant. It also doesn't happen without the right partners, and for Patchogue, that partner has been H2M."
TREATMENT PLANT EXPANSION FOR SMART ECONOMIC DEVELOPMENT
Covering 1,400 acres and over 220 buildings, the Hauppauge Industrial Park is the second largest industrial park on the east coast. Despite being home to 1,300 businesses employing more than 55,000 people, only a portion of the parcels within the park were connected to sewers. The two existing treatment facilities in the district had a combined flow capacity of 450,000 gallons per day. H2M designed an expansion of the Suffolk Business Center treatment plant, which allowed an increase in capacity to 1.65 million gallons per day. The expansion will allow 250 additional properties to be connected to sewers. The expansion plan also includes construction of nine additional miles of gravity sewer; three new sewage pumping stations with three miles of force main piping; and conversion of a smaller WWTP into a wastewater pumping station. The benefits of the project are many. Placing all of the businesses in the park on sewers will remove hundreds of septic systems, making a major positive impact on Long Island groundwater quality. The project also allows for expansion of the industrial properties both horizontally and vertically beyond their current footprint, allowing for two- and three-story buildings to be developed. All around, the project is a win-win, allowing for growth and economic development in Hauppauge while protecting the environment. The $44.8 million project was completed within the client's budget, and has since won over a once skeptical community. It has garnered positive feedback from area residents, as well as local politicians, and won a 2015 Silver Engineering Excellence Award in the Waste and Storm Water category from the American Council of Engineering Companies of New York (ACEC NY).
Do you know…
H2M's wastewater engineering service covers the following markets listed below, please click "learn more" to view each market.
real estate
From the due diligence to the grand opening, H2M helps make visions a reality.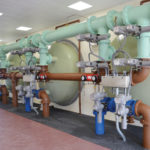 water/wastewater
Since its inception in 1933, H2M has been a leader in the field of water supply and wastewater treatment; once simply known as Sanitary Engineering.
news
Click here to check out all the latest news surrounding H2M!
blog
Click here to view our blog for professional writing publications from our H2M employees!
careers
Click here to find career opportunities at all H2M locations!